Nestled in the countryside of the bustling 'Little Red Dot', Bistro by GA brings you a step closer to nature with an authentic farm-to-fork experience. With many of our ingredients sourced from local farms, our delightful farm-fresh dishes celebrate Singapore's very own local agri farmers, whom we proudly support.
Experience the Countryside
With many of our ingredients sourced from our Singapore farms and lovingly crafted into our menu, we believe in bringing you only the freshest tastes in every bite. Look out for our FARM-FRESH icon which indicates dishes that have been made with local farm-fresh ingredients!
Hawker fare favourites with a modern twist. Our local delights are a must try!
Locally harvested goodness
TLF Pack is our way of expressing our appreciation and support for all our local farmers who have worked tirelessly over the years to provide people with fresh produce. As a way of bringing them closer to the community, we launched the TLF Survivor Pack subscription model with our local farmers in April 2020, for rolling out in July 2020. The TLF Survivor Pack+ was subsequently rolled out for subscribers in October 2020. Both packs contain curated farm-fresh produce from our local farmers that are delivered straight to the doorstep on a weekly basis.
WHY TLF?
No farmers, No food!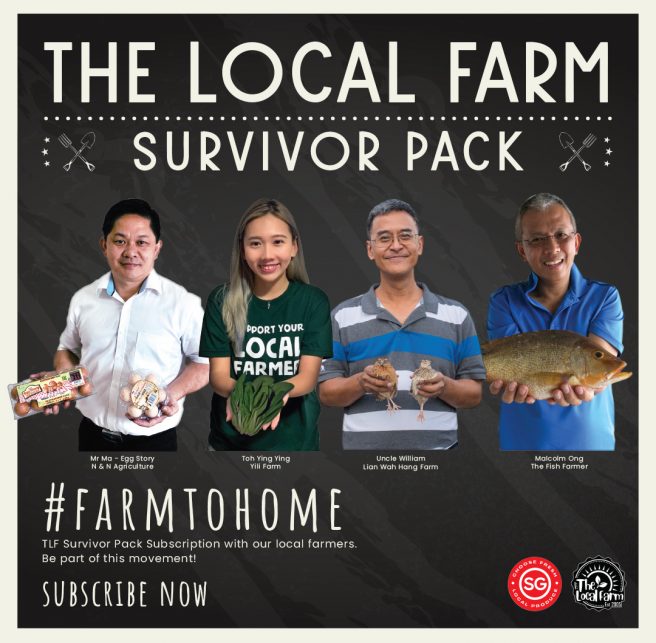 Be part of this movement!
#farmtohome
What will you get?
It's a Survivor pack!
Check out thelocalfarm.sg Website.
locally harvested goodness
The Local Farm aims to bring the goodness of Singapore farms closer to you!
At The Local Farm (TLF), we go by this simple saying: no farmers, no food. This is why we believe in the importance of bridging our local farms in Singapore closer to people, and building meaningful connections between both!We approach this through the curation of various experiences under the EAT, WORK, & PLAY concept: with our TLF Bistro & Grocer, monthly TLF Packs, along with specially-tailored TLF Adventures for families and kids alike!The Local Farm is proudly by Gardenasia.
As fellow farmers, we know that the right support can be valuable to your growth. The Local Farm can help bring your farm-fresh produce to more people, through the careful curation of value-added products that are ready to eat, cook and use. Interested? Reach out and let us grow together with you!
Whether you're in food manufacturing, food retail, or cafes/restaurants, you can show support for Singapore's farmers by adding a true farm-to-fork touch to your menu or product offerings. Not sure where to start? This is where The Local Farm comes in! Join us as an F&B partner and we'll help you get the conversation going.
There are many ways that you can show your support for the Singapore farms represented by The Local Farm!
Have a meal at Bistro by Gardenasia, visit Mosscape Concept @ Scotts Square and check out our takeaway booth, or pick up a ready-to-use pack of our Assam style Mullet Chowder from any The Soup Spoon outlet!
Be sure to 'Like' us on Facebook for more information.